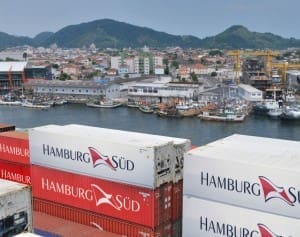 ARGENTINA will resume beef exports to China from Monday next week, but after nearly four weeks of suspension, there are still no signs of a resumption of China's export trade to from Brazil.
The loss of the two South American suppliers left a big void in the supply of imported beef from China.
Argentine officials announced on Wednesday that restrictions on beef exports to China would be lifted from October 4 – about a month earlier than originally planned. This decision follows negotiations with local producers after the national elections on September 12.
Producers calling for the removal of all export restrictions had argued that the restrictions were causing economic harm to Argentina's livestock and meat industries while doing little to help domestic consumers.
China accounted for 76% of Argentina's beef exports for the year through August. Argentina accounted for 21% of China's imports for the year through August, just behind the largest exporter, Brazil, which held a 38% share.
Previously, Argentina had planned to restrict volumes shipped to China and most other markets to 50% of last year's average until the end of October, although exemptions have already been put in place for fill certain tariff rate quotas for the European Union market, including the Hilton. and high quality / 481 beef quota, plus the country's 20,000 t quota for export to the United States.
On May 17, the Argentine government imposed a surprise 30-day ban (extended later) on all beef exports out of the South American nation, in a bid to contain domestic meat prices and curb the inflation.
Argentina's chilled and frozen beef exports to China in August totaled 32,800 t, well below the 50,000 t shipped in May before government restrictions on exports.
No sign of returning to Brazil
Meanwhile, there are still no signs of a resumption of beef trade to China from Brazil, after Brazil's self-imposed suspension on September 4 following confirmation of two atypical cases of BSE in separate states.
Almost four weeks have now passed since Brazil's voluntary suspension. Many had predicted a recovery in trade after a fortnight, based on the events of the last time the country reported a case of BSE in 2019.
Chinese meat trade analysts are worried about the impact, the longer the suspension lasts, especially as China approaches important National Day holidays and a period of high consumption.
"At present, due to the expected supply shortage, market prices for imported beef continue to rise," Chinese group Meat International said in a report this morning.
Due to earlier restrictions on beef exports, Argentina's export volumes fell 33% in August from the previous month, MIG reported.
"Brazil's suspension on September 4 could lead to greater uncertainty about future market supply," the group said.
"So far, MIG's intelligence is that there is no technical problem causing the prolonged delay, but rather a problem with China's willingness to open up. Political diplomacy has a greater impact on the progress of the reopening. It could also involve the presidential election in Brazil and a series of recent diplomatic events that have become unpredictable, "MIG said.
Five other client countries applied their own suspensions following Brazil's BSE announcement earlier this month, most of which have yet to clear export resumption.
Questions continue to be raised in business circles around Brazil's unusual announcement of two atypical cases of BSE at the same time.
US National Cattlemen's Beef Association general manager Colin Woodall said earlier this month that "since Brazil has failed to report BSE cases in a timely manner, we must remain vigilant in the application of our safeguards and hold them accountable. "
This may partly explain China's reluctance to reopen the beef trade with Brazil, trade sources said.