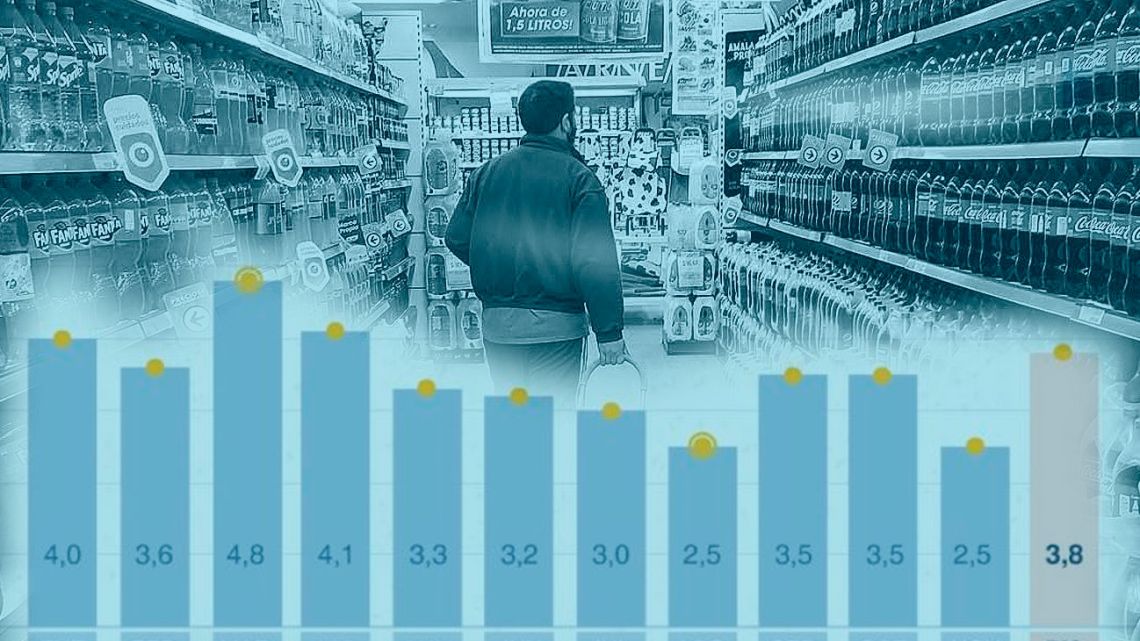 Argentina's consumer price index accelerated in December by 3.8%, bringing the country's inflation rate for 2021 to 50.9%, one of the highest rates in the world .
The data, released Thursday by the national statistics office INDEC, underscores Argentina's ongoing struggle to combat runaway price increases. In 2020, a year of economic paralysis due to the Covid-19 pandemic, price increases reached 36.1%.
In its 2022 budget bill, which was rejected by Congress, the government projected an inflation rate of 33% for next year. Opposition lawmakers view that estimate as unrealistic, as do pundits. According to the Central Bank's latest survey of consultancies, analysts and banks, prices will skyrocket by 55% over the next 12 months.
In 2021, food prices soared by 50.3%, according to INDEC. The largest increases were seen in restaurants and hotels (up 65.4%), which rose 5.9% in December alone, and in transportation (57.6%).
Core inflation rose to 4.4% in December from 3.3% the previous month.
"In 2021, the government tried to anchor inflation by basically regulating the price of utility tariffs and the exchange rate," said Hernán Fletcher of the Centro de Economía Política Argentina.
Argentina has had strict exchange controls in place since 2019, allowing individuals to buy just US$200 a month at the official rate, a move taken to protect central bank reserves.
Negotiations with the IMF
Argentina is in the midst of negotiations with the International Monetary Fund for an expanded facilities fund deal to replace the record US$57 billion stand-by deal signed in 2018 with the Mauricio Macri administration. The country's debt to the IMF amounts to some 44 billion US dollars. President Alberto Fernández refused to take delivery of the remaining tranches of the loan when he took office in December 2019.
The talks, however, are not progressing as both sides would like. The Fernández administration was unable to strike a new deal, largely due to disagreement over fiscal discipline and the size of Argentina's deficit in the coming years.
"For us, the word 'austerity' has been banished from the discussion; for us, we have to grow," President Fernández said last week. "We succeeded in reducing the primary deficit, not because of a drop in investment but thanks to growth."
With the country's liquid international reserves estimated at less than $4 billion, Argentina faces payments to the IMF of $19 billion this year and another $20 billion in 2023, plus $4 billion in 2024.
"A deal with the IMF may improve the economy in terms of expectations, but in terms of inflation, I don't see 2022 as much different from 2021," said economist Pablo Tigani.
– TIMES/AFP/NA