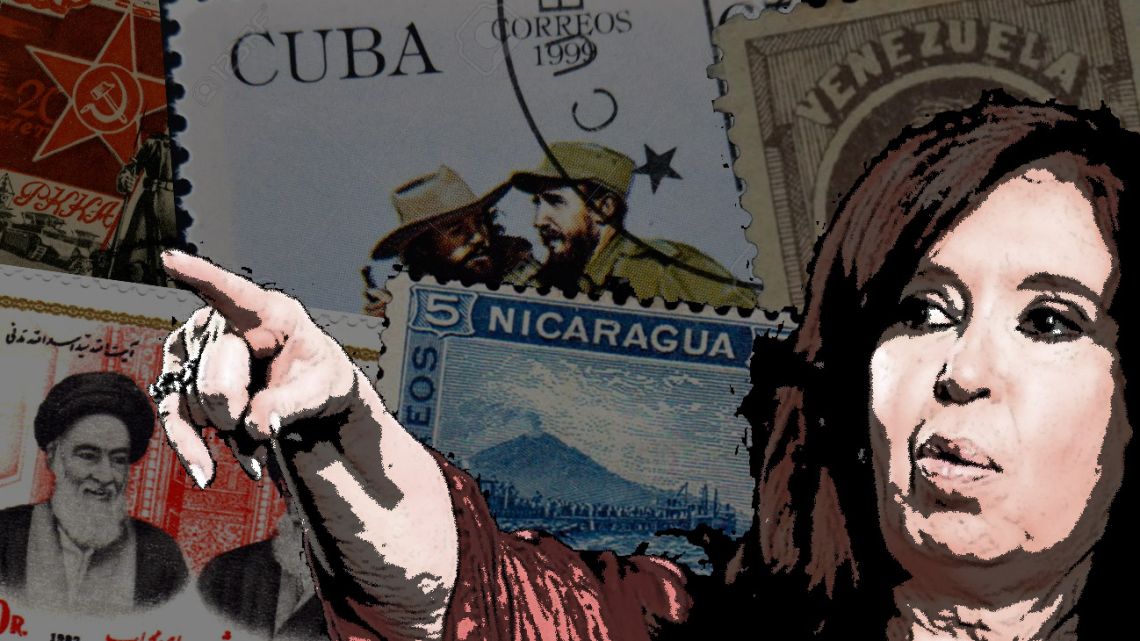 Argentina's foreign policy is a mess. That's because, like President Alberto Fernández's approach to legal matters and so much more, it must align with Cristina Fernández de Kirchner's overarching goal, which is to thwart those who want to see her behind bars. for having acquired a huge sum of money by unacceptable means.
Were it not for the all-too-plausible corruption charges hanging over the lady who tells Alberto what he can and cannot do, Argentina could, despite its economic eccentricities, be a pretty "normal" country on good terms. with the United States. and Western Europe. Moreover, Cristina's habit of pocketing all the banknotes at hand also means that there is no chance that the country will face the economic storm that is fast approaching under a government of national unity; Members of the opposition coalition can hardly be expected to pretend to believe that the vice president has always been a model of civic virtue and that he should be able to walk away unscathed.
It is entirely because of Cristina's run-ins with the law that foreign policy has been left in the hands of her staunch supporters, who include a clique of anti-Western hardliners with jihadist sympathies. Accordingly, the Kirchnerite government is doing its utmost to curry favor with the regimes not only of Venezuela, Nicaragua, Cuba, Russia and China, which it apparently considers ideologically close, but also of the Islamic Republic of Iran. Unlike their counterparts in democratic countries, leaders in autocracies believe endemic corruption is tolerable if those caught are useful to them. Being predators at heart, they like to do business with politicians who are themselves corrupt or soft on corruption because it is easy to blackmail them. They certainly do not indulge in the moralistic doggedness typical of American officials and, to some extent, of their European counterparts.
Cristina's decision, dutifully supported by Alberto, to bring Argentina closer to Latin American dictatorships that challenge the international status quo and to get along well with the greatest examples of the race in Russia and Asia who are doing their best to settle in the region, arrived at a delicate time. Hoping to recoup some of what he lost by withdrawing from Afghanistan almost overnight, US President Joe Biden is trying to build a cohesive democratic alliance to put tyrants in their place. For his part, Alberto is desperate for the United States to help him get the International Monetary Fund to accept that it would be madness to demand that it cut public spending just because the country has run out of money and gets blackballed by creditors. It's something Washington is hesitant to do – although one might assume that Biden has no desire to see Argentina go under during his tenure, neither he nor the other members of his team are willing to back any economic policies they deem silly or, for that matter, turn a blind eye to Kirchner's attacks on judges that Alberto says are unnecessary, probably because he suspects they disapprove of corruption.
On the face of it, the people currently pulling the strings in Argentina don't seem to have much in common with the genocidal Iranian clerics who are bent on wiping out Israelis and everyone else around when the big day arrives, so as hitting the "Great Satan" (otherwise known as the United States) so hard that he will squirm in the dust for many years to come, which, according to the man now in charge of the Revolutionary Guards bloodthirsty Islamic may be about to arrive.
While Alberto may have been stuffing his head with wacky ideas in an attempt to convince Cristina and her followers that deep down he really is one of them, few see him as a bigoted enemy of a increasingly fragile international order, if only because he does not seem to know what is happening outside the part of the world where he lives. The same cannot be said of Cristina who, influenced less by the late Venezuelan demagogue Hugo Chávez than by the uncomfortable feeling that her behavior in power made her a persona non grata in the western world, decided it would be a good idea to get close to the ayatollahs as many of his dodgy friends were doing in other Latin American countries.
That's probably why Foreign Minister Santiago Cafiero let Argentina's ambassador to Nicaragua attend the final swearing-in of Nicaragua's despicable president, Daniel Ortega, alongside Mohsen Rezai, the former leader of Iran's Revolutionary Guards, who is now the "Vice President for Economic Affairs" of the Islamic Republic. cases" and is high on the wanted list for his role in the attack on the AMIA Jewish Community Center building in July 1994, in which 85 people died and hundreds were injured, making the worst terrorist atrocity in the country's history?
By almost any standard it was an act of war but, needless to say, Argentina lacked the military resources to retaliate forcefully. If this had not been the case, the Iranians would have thought twice before getting involved, but they knew that Argentina would have no alternative but to rely on international law. With the cooperation of countries that pretend to respect her, she managed to make life more uncomfortable for a number of high-profile Iranians until, to everyone's amazement, Cristina decided he would be in her interest in actually dropping the charges. Nevertheless, they are still valid and if the Ministry of Foreign Affairs had wanted to, it could have at least asked Nicaragua to handcuff Rezai and send him south to stand trial, which, given the pace disregarding Argentine legal proceedings, would have meant keeping him here for a very long time.
Although Ambassador Daniel Capitanich may have been unaware that the individual he was going to be dating was wanted for the mass murder of Argentines, other government officials must have known all about Rezai, but they did not think to warn their man in Managua, presumably out of fear. to upset Ortega, the Iranians and, of course, Venezuelan dictator Nicolás Maduro, who also attended the rally. It would seem that, as far as the Kirchnerite government is concerned, continuing to speak with such individuals is far more important than making an effort to bring those responsible for the AMIA bombing to justice.